The Inner Empowerment Movement
"Inner Empowerment Movement" is the answer to your calls during your journey from chaos and stress to peace and harmony; from illness and death to empowered wellness, spiritual evolution and enlightenment wherever your hometown is in the world. Our Mission is to assist in your experience of stress, aging, hi-tech surgery, pharmaceuticals or end-stage organ diseases, with achievement and maintenance of graceful living, profound inner peace, overwhelming enthusiasm, wellbeing with happiness, joy and spiritual evolution. We are enthusiastic about helping you build your immune system, become healthier, stay young and fit, practice lifestyle modifications and anti-aging practices, become happier, more effective in life, improve relationships, guiding you with the best vitamins, minerals, supplements and antioxidants to increase your energy levels, and teaching you the best practices in meditation, exercises, yoga, pranayama, and breath therapies.
RoseMarie Toussaint MD
Dr. RoseMarie Toussaint is a caring and integrative physician trained and with active licenses in Western Medicine in Florida and Arizona. Her experience and journey spanned from performing liver and kidney transplant surgeries and treatment of chronic illness, end-stage organ diseases as well as mentoring, health and wellness coaching, maintenance of wellbeing, physical fitness, pranayama and meditation.
She is a volunteer teacher of Sudarshan Kriya Yoga (http://aolf.co/JoinDrTee4Peace ) and Breath Water Sound from the Art of Living Foundation and the International Association For Human Values created by the humanitarian and spiritual leader Sri Sri Ravi Shankar
Dr Toussaint is an independent consultant of Immunotec, Proud of our Science – Immunotec Inc. the manufacturer of Immunocal and other supplements and vitamins. She is enthusiastic in assisting individuals to enhance their potential for self-empowerment and to achieve inner peace through Sudarshan Kriya Yoga.
Dr Toussaint's autobiography in 1998 is here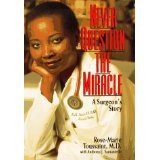 She is presently writing her second book about the journey from chaos and stress to harmony and peace of mind.
She is committed to preventing and treating illnesses with Western Medicine in Florida and in Arizona, maintaining great health with holistic practices, supplementations, mentoring and spiritual teachings throughout the globe. She lived in Maui from 2013 to 2016 on a soul call from Mother Earth and Source, learning, assisting in, and sharing about our spiritual evolution. Back in Miami, FL and empowered to teach classes on Holistic Integrative Healing
Dr Toussaint's dream for the last three decades has been and is to be a member of a spiritually based community committed to healing all – physically, emotionally, mentally, psychically and spiritually, in revitalized and sustainable environment. She is working on her second book and loves biking, swimming, dancing, singing, lucid dreaming, being in the ocean with the dolphins and meditation.

UNDERGRADUATE EDUCATION
Loyola University
6363 St. Charles Avenue | New Orleans, LA 70118

MEDICAL SCHOOL & GENERAL SURGERY
Howard University College of Medicine
520 W St NW, Washington, DC 20059

POST GRADUATE FELLOWSHIP LIVER & KIDNEY TRANSPLANTATION
University of Pittsburgh School of Medicine
3550 Terrace St, Pittsburgh, PA 15261
Please read our Disclaimer.